METAL BRACES
ORTHODONTIC DENTISTRY


Orthodontic treatment treats different conditions such as tooth overcrowding, gaps between teeth, crooked teeth and malocclusions.  Overbites, underbites, crossbite, open bites are resolved with dental braces. Your orthodontists or braces dentsits specializes in tooth alignment and focuses on the diagnosis as well as the treatment of dental and associated facial irregularities.
Metal braces are the time-tested and conventional orthodontic braces. Metal braces consists the placement of brackets, archwire and elastics o-rings that are used to secure and shift teeth into position.
Clear braces functions the same way as metal braces. Its main difference being that its metal brackets are made of ceramic or plastic. This makes clear braces less visible.
Benefits of Traditional Braces 
Affordable and durable in terms of daily wear, chewing and brushing
Treats a wide range of orthodontic concerns
Effective as they are fixed appliance without the need to worry on discipline of wearing removable clear aligners
Types of traditional braces


Metal braces
Metal braces are smaller than ever before and you can express your individuality with colored o-rings. Part of the fun of having dental braces is choosing different-colored elastics at each appiontment. You can celebrate your school spirit, choose black and white for Halloween or select any number of fun colors that shows your style.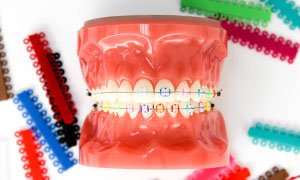 Clear braces
Clear braces are suitable for adults or working individuals whereby orthodontic treatment are made less visible. Clear braces made from tooth-colored ceramics or clear plastic alongside with clear o-rings masks orthodontic braces to your natural teeth.
Traditional braces Procedure
1. Orthodontic Treatment Plan
Your orthodontist takes x-rays, study models and draws up a treatment plan upon discussing with you on expected final result. Your dentists then plans and  determines the mechanical shifts to move teeth into place. If there are any pre-orthodontic treatment such as teeth scaling, dental fillings or teeth extraction, your orthodontist refers you to the respective dentist.
2. Fitting of Brackets
After clearing any pre-orthodontic treatment work, your orthodontist places brackets over teeth surfaces and runnings an titanium archwire that is held in place with elastic o-rings. 
3. Monthly adjustments
Every 4 weeks, you will need to visit your dentist to change the elastic o-rings in pulling or pushing teeth into the correct position.
4. Post Orthodontic Treatment
Upon completion, retainers are worn after braces brackets are removed. Follow your dentist instructions during and after the completion of dental braces for long-term successful results. 
top