SMILE SIGNATURE DENTAL CENTER AT RATCHADAPISEK

Smile Signature Dental Center at Ratchadapisek
257/26 Ratchadapisek Rd
The Wiz Ratchada, Din Deang District
Bangkok 10400
+(66) 2 693 6933 +(66) 83 095 0218
Opening Hours :
Mon to Sat 10.00am to 20.00pm
Sun 10.00am to 17.00pm
Smile Signature main headquarters at Ratchadapisek is a 4 storey dental building. Located directly infront of the MRTA Ratchadapisek train station Exit 1, visitors are able to take the underground train and easily get to Smile Signature's dental center within 20 meters on upon exiting the station. Smile Signature at Ratchada's personalized friend staff and team of professional dentists is readily caring for both international travellers and local residents.
Smile Sigature at Ratchadapisek focuses in full mouth dental implant restorations including ProArch (All-on-4) cases whereby missing teeth on a full arch may be replaced in a single trip (depending on bone condition) and mini dental implants with overdentures. Our experienced team of implantologists has treated numerous implant treatments for our international patients.
Our cosmetic dental specialists re-vitalizes smiles with aesthetics veneers, crowns, bridges, lumineers. Cosmetic orthodontic treatments including clear braces and Invisalign are performed by certified orthodontists. We care for our patients smiles as your smile becomes our signature.
NORMAL MAP Ratchada dental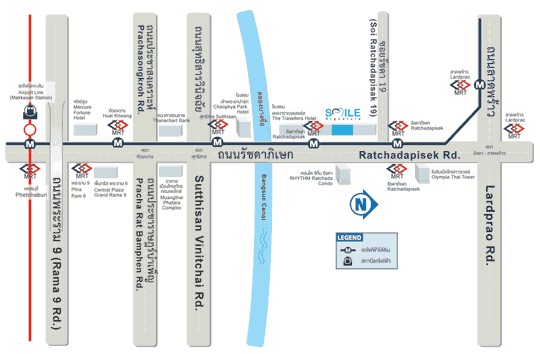 MAP AND LOCATION
GOOGLE MAP Ratchada dental
To book at anyone of our locations, please call us at our main number 083-095-0218. You are also able to email us stating your preferred locations at email: contact@smilesignature.com or alternative email: smilesignature@hotmail.com
top
back to Contact