Dentures
Dentures is a removable replacement for missing teeth and adjacent tissues. Dentures may be made of acrylic resin or a combination with various metals.
Complete dentures replace all the teeth, while a partial denture fills in the spaces created by missing teeth and prevents other teeth from changing position.
Benefits of Dentures
Modern dentures are natural looking and fit so much better than they used to.
Dentures provides a set of fully functioning set of teeth
Dentures help keep facial muscles from sagging that can make a person look older
Dentures assists to eat and speak better relative to having no teeth in place
You will be able to smile more confidently
At Smile Signature thailand dental clinic, our thailand dentist customize your dentures based o your case including: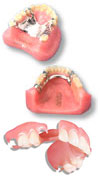 1. Removable Dentures
Partial dentures fill in the spaces created by missing teeth, resting partly on the gums and partly on the remaining teeth.
Partial dentures are normally removable and may be attach to your natural teeth with metal clasps or devices called precision attachments. Partial dentures may be
Acrylic partial dentures : made of plastic material, sometimes known immediate dentures
Metal Frame partial dentures : with metal components for a stronger frame and a more durable use

Complete dentures replace all the teeth in a jaw and fit directly on the gums and supporting bone. Complete dentures is normally of acrylic or plastic materials. Additional metal components may however be specified to be added as part of the complete dentures framework for better strength and durability.

Implant-supported overdentures or implant dentures are smiliar to conventional complete denture placed over sets of dental implants. The difference between complete and overdentures is that overdentures tends to have greater stability during chewing and function becauase the complete dentures is fiited on the implant posts that holds the denture securely in place.
2. Fixed Dentures 
Implant-supported fixed dentures using ProArch (All-on-4) concept permanently fits overdentures over dental implant posts. Fixed dentures cannot be removed on a daily basis and require a visit to your dentist to unscrew and remove the full dentures for cleaning and adjusting.
There are beneifts to ProArch (All-on-4) hybrid dentures as individuals are able to smile and teeth during a one phase treatment over the course of a few weeks relative to a few months. For soon-to-be-endentulous individuals, all-on-4 makes the transition smoother.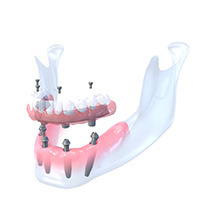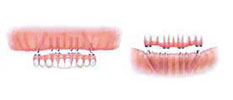 คลินิกทำฟัน สไมล์ ซิกเนเจอร์
top