ProArch (All-on-4) and Implant Dentures 
Teeth Implants with Dentures
Overdentures worn over tooth implants provide the advantage of better retention then simply wearing complete dentures. The overdentures are snapped into place over locator balls or bars attached to the implants posts.
The actual number of tooth implants depends on our bone condition and biting load. In general more implants are used on upper jaw to provide sufficient support. Your implantologists does a checkup and diagnosis with x-rays before determining the number of recommended implants and which implant-supported implant dentures is most suited for you. 
BENEFITS OF FULL ARCH IMPLANT SUPPORTED DENTURES
Overdenture are stablized with tooth implants for better retention
Possiblility of modifying and using existing dentures on tooth implants
Implant dentuers are removable
Implant dentuers are simple and inexpensive

Types of Implant Dentures
There are basically 2 types of implant-supported dentures :
Removable implant dentures : implants posts acts as ancor retention for full dentures. The overdenture is removed daily for simple cleaning and maintenance.
Fixed implant dentures : also known as ProArch (All-on-4). The implant dentures is fixed over implants and can only be cleaned and removed by your dentist. Unlike removal implant dentures, ProArch (All-on-4) is fixed. It uses an immediate function concept whereby implants with fixed dentures is loaded immediated during the same phase of implant post placement. ProArch (All-on-4) titles posterior implants to maximize its hold on front jawbone that is normally more dense and sufficient for hold.
1. removable IMPLANT DENTURES
The course of removable implant dentures treatment described here is one of several options full jaw options. For implant-supported dentures the implant posts acts as retention anchors whereby a full overdenture fits snuggly over the implant posts locator abutments after healing. The overdentures can be easily removed for daily cleaning. Implant dentures is economical, easy to clean for long-term use.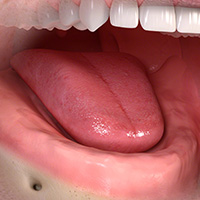 1. BEFORE THE PROCEDURE
The thailand implantologist determines what needs to be done and prepares both himself and the patient for the coming tooth implants treatment procedure.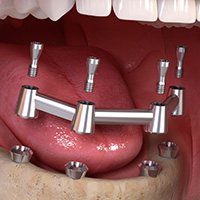 2. INSTALLING THE TOOTH IMPLANTS
The first step is installing tooth implants by your thailand implantologist is to replace the lost tooth roots. In this of illustration case, two tooth implants are used. Existing removable dentures may be modified or a new set of temporary dentures done that enable you to eat and function like normal while waiting the permanent overdentures to be installed.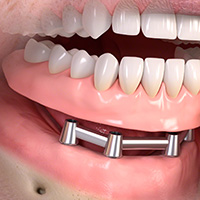 3. ATTACHING THE OVERDENTURES
Balls or bars are attached to the tooth implants and the permanent overdentures is made and securely fitted on the tooth implants by your thailand implantologist.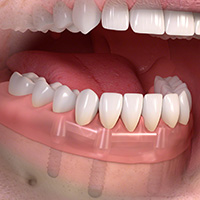 4. END RESULT
The implant supported dentures or implant dentures provide better retention and comfort in wearing full dentures as the overdentures do not slip out.
2. ProArch (All-on-4) Fixed Dentures
ProArch (All-on-four) implants is a possible option for individuals with posterior boneloss and who would like to have immediate function implants shortly after implant post placement. The posterior implants are tilted to maximize its hold on front jaw bone.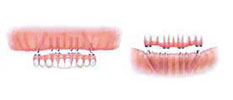 The number of implants recommended is based on jaw bone condition. In general, upper jaw typically require more implants relative to lower jaw. Implant posts of 5 to 6 implants is commonly done for upper jaw. For lower jaw, 4 implants is usually suffice to take the biting load over the fixed hybrid dentures.
1. TEETH EXTRACTION AND IMPLANTS PLACEMENT
After your dentist determines that ProArch (All-on-4) concept is suited for your case, existing teeth are extracted and the dental implant posts is embedded into the jaw bone. 
2. HYBRID DENTURE IMPRESSION TAKING
Post placement of implant posts, your dentists takes a teeth impression of the jaw with implant posts. Your dentist may take the lab impression during the same surgical placement visit or shortly after implant placement (within 1 to 3 days when bleeding has stopped). The impression is sent to the dental lab for your fixed hybrid dentures to be constructed.
3. CONSTRUCT AND ADJUSTMENT OF HYBRID DENTURES
On delivery of the dentures framework, teeth are added onto the framework. You may require several adjustments visits before your dentists is able to fully build the hybrid dentures. Once the hybrid denture is properly made, it is secured into position with screws.
4. END RESULT
The ProArch (All-on-four) implant with fixed hybrid denture is used for a period of time. A second set of fixed hybrid denture with titanium framework may be used to replace the first set of acrylic hybrid denture for longer-term wear and use when gums and bones have fully healed. 
With ProArch (All-on-4) options, you will need to clean under the hybrid dentures and return to your dentist for periodic professional cleaning, checkup and adjustments.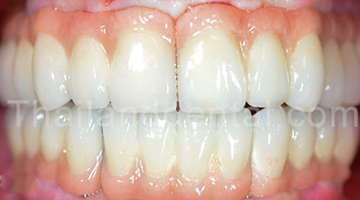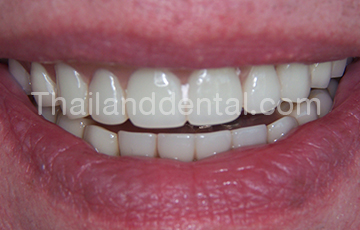 top