One Day Implants or Immediate Implants
Thailand Dental Implants
One day implants or immediate implant applies when existing teeth that can no longer be restored is extracted and the dental implant posts is placed in during the same surgical visit in one day. Immediate implants is only done where there are no contra-indications or infection in area and may not be suited for all cases. If there is poor bone condition or abscess within the area, immediate implants may not be recommended.  
BENEFITS OF ONE DAY IMPLANTS
It is less invasive as teeth extraction and implant placement is done during the same visit
Faster treatment timings 
In cases where there is no contra-indications, bone may be retained as the implant posts acts as the new tooth root immediately. 
There are many dental implants brands and ranges available on the market. Smile Signature dental clinics in Thailand carries the top dental implant systems worldwide and our dentist uses European dental implants brands. 
Although any brand and range of implant maybe used for one day implants, the recommended range for one day implants are active surface implants. Active surface implants has a special chemical coating over the implant post surface that enables implant posts to integrate and fused with your jaw bone more readily. For cases that require immediate placement, immediate load or immediate function use, active surface implants can improve success rates and reduce risks.
See our dental implant packages and various dental treatment fees. Listed dental implant fees is already inclusive of dental implant posts, abutment and crown. X-rays, CT Scans, bonegrafts and medication is charged separtely depending on what is requierd for your case. Certain dental clinic lists only the costs of dental implant posts without the completed crown. Therefore always get a cost quote consult to obtain a complete dental fees quoets.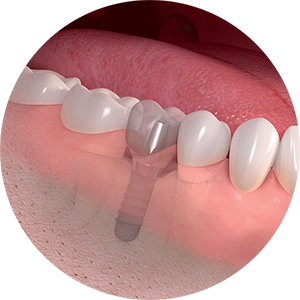 SINGLE DENTAL IMPLANTS
Single dental implants with crown replaces single missing teeth Single Dental Implants Procedure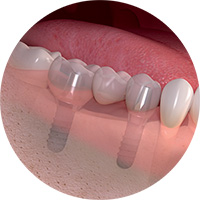 MULITPLE DENTAL IMPLANTS
Multiple dental implants with fixed bridges replaces several missing gaps
Multiple Dental Implants Treatment Procedure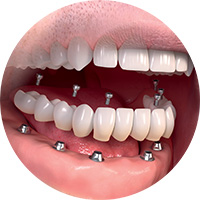 FIXED BRIDGE
Full arch dental implants with fixed bridges is similiar to having new tooth roots with fixed bridges on the dental implants.
Full Arch with Fixed Bridge Dental Implants Procedure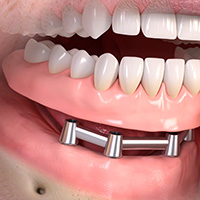 OVERDENTURE
Implant supported overdentures gives better retention and better comfort than simply wearing complete dentures. 2 to 6 dental implants may be used with bar or balls attachments that help support a removable denture.
Full Arch with Overdenture Dental Implants Procedure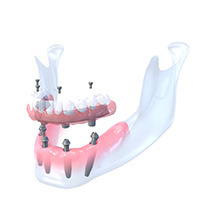 ProArch (All-on-4)
ProArch (All-on-4) dental implants uses tilting posterior dental implants that facilitates an optimal support and for maximum utilization of available bone in jaw. ProArch (All-on-4) are immediate function implants whereby new teeth are obtained in one trip.
ZYGOMA IMPLANTS
Zygoma implants are done for the edentulous jaw where there is severe bone resorption, with only one surgical procedure without the need for grafting. Zygoma implants are immediate function implants whereby new teeth are obtained in one trip.
Basic Dental Implant Concepts 
One day implants or Same Day Implants: existing teeth is extracted and the dental implants post placed on during the same surgical visit
Immediate loaded implants: temporary or permanent fixed proshetics is loaded over the implants post shortly after implants post are embed in jaw
Conventional implants : the most commonly done and safest concept whereby dental implants treatment is done in two phases. During the first phase, the implants posts is inserted surgically into your jaw bone. The dental implants posts is left to heal for at least 2 months and more. During the second phase, the final false teeth (or prosthetics) us made and fitted over the implant posts.
An initial examination, panoramix x-ray film and/or in certain cases a CT scan is typically done by your dentist during implant treatment planning. These help determine your bone condition and positioning. Your dentist can also then provide a draft indication if one day implants or immediate load implants may be done for your case. One day implants are for selected cases and may not apply to all cases.
top