Leading Dental Implant Clinic
Qualified Implantologists. Established Implant System.
Smile Signature team of implantologists has been restoring missing gaps enabing patients with no teeth to bite and chew properly once again. Our experienced and qualified team of implantologist has been placing dental implants for the past 12 years. At our thailand dental implant clinic, Smile Signature uses established dental implant systems including Straumann implants, PI Branemark and SIC Invent Swiss Implants.

A New Set of Teeth with Implants and Dentures
Missing teeth on jaws inhibits good chewing function, speaking and . Full dentures are commonly done to replace missing teeth on jaw. However, full dentures can slip and slide easily. Now with dental implants and mini-implants, full dentures can be held onto the jaw bone. Dental implants with overdentuers or mini-implants help improve your smile, your confidence and your life.
Our qualified implantologist and prosthodontists have done a large number of ProArch (All-on-4) cases as below. Our dental clinics have helped many international patients from Australia, New Zealand, Russia and USA return their confidence after putting off missing teeth or damaged teeth for a long time. Read more on our dental implant promotions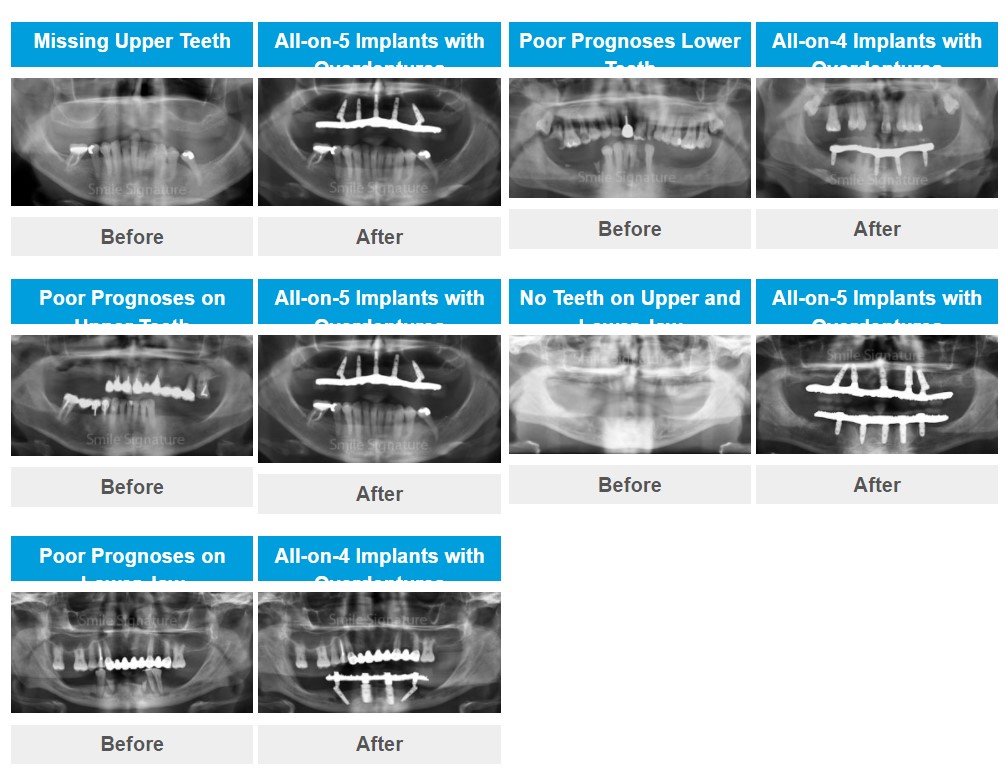 Missing Teeth Solutions
There are several treatment options you can choose to replace missing teeth gaps or to replace damaged teeth that can no longer be restored. There are 3 basic options for missing teeth solutions:
Dental implants
The above treatment solutions falls under prosthodontic dentistry or prosthese dentistry. The dental expert that specializes on false teeth replacement or prosthese are called prosthodontists. A prosthodontist is typically trained on teethwork techniques for crowns, bridges, dentures and prostheses over dental implants to properly ensure your new teeth and bite feels and looks natural.
Dental implants are ideal fixed teeth replacement that are strong and mostly permanent normally lasting over your life-time. Implants do not decay and you are able to chew, bite and brush implant prosthese simliar to having a new set of natural teeth. 
Dental bridges are suited for single missing gaps that has healthy adjacent teeth. Unlike dental implants that require healing period of several weeks to months, bridges replace missing gaps quickly within just a few days. 
Dentures are removable prostheses. They are best fitted when they can be held by existing adjacent teeth. Dentures are economical and if you carry dental insurance it is normally claimable,

Types of Dental Implants
There are many brands, ranges and types of dental implants on the global market and in Thailand. In terms of technique and concept for the timeframe of treatment, there are 3 basic implant types:
Conventional implants are the standard concept whereby treatment is done in 2 stages. During the first stage, the dental implant post is inserted into the jawbone. The implant post is left to integrate and fuse with the jaw bone. It normally takes around 2 to 6 months for the implant post to securely embed with the jaw bone. Thereafter during the second stage, your dentist (or prosthodontist) builds the crown, bridge or dentures to be fitted over the dental implants.
Immediate implants, sometimes known as one day implant. This concept applies to the first stage treatment whereby an existing damaged tooth is extracted and the dental implant post is placed into the jaw bone during the same surgical visit. Therefore, during the same one day visit, you new implant post tooth root. However, this does not mean that the false tooth can be fitted over during the same period. The implant post is still left to heal for at least 2 months or more before crown, bridge or denture is loaded over the dental implant post.
ProArch (All-on-4) is an immediate function concept whereby both the first stage and second stage are done during the same period of time. ProArch (All-on-4) applies only to ful jaw implants (not for single or several missing teeth). One day implants combined with immediate loading of prostheses is done in one go. ProArch (All-on-4) has the benefit that the dental implant posts and its fixed denture prostheses is completed over a short period of time of around 2 weeks. For someone who has exisiting teeth and requires removal of all teeth, ProArch (All-on-4) concepts makes the transition process smoother. At a later stage, after 6 months or more when the implant posts have healed with the jaw bone, the first set denture prostheses is normally replaced with another longer-term fixed denture prostheses using strong materials. 
Dental Implants Solutions
Missing teeth can be replaced by dental implants where you have:
single missing tooth
mutliple missing teeth
full jaw missing teeth
Multiple Missing Teeth
When there are missing teeth in one row, 2 or more dental implant posts can be inserted with a dental bridge fitted over the implant posts.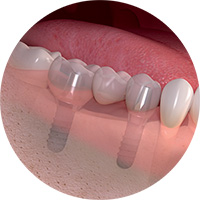 Single Missing Tooth
A single dental implant post with a crown over implant can be used to replace single missing tooth gaps.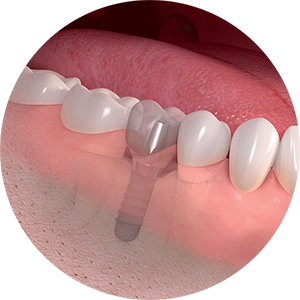 Full Jaw Missing Teeth
If there are no teeth on upper or lower jaw, there are several prosthese used to replace full jaw missing teeth:
Implant-supported removable dentures
Full implant dental bridges
Removable Dentures Over Implants
Usually 2 to 4 implants posts are inserted and a denture is securely retained over the implant posts.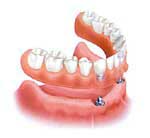 Fixed Bridges Over Implants
Several implants ranging from 6 to 8 implant posts are inserted and a bridge is built directly over each implant post.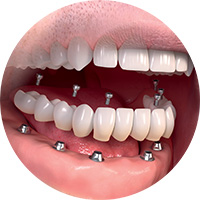 Fixed Dentures Over Implants ProArch (All-on-4)
4 to 6 implant posts are inserted and a hybrid denture is fixed over the implant posts.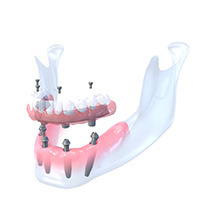 Dental Implant Prices 
Dental treatment fees at Smile Signature dental implant clinic are affordable and standardized. We do not discriminate prices between our foriegn and local patients. All dental fees are transparent on our pricing list. 
Our listed dental implant fees inclusive of all fees for dental implant posts, its abutment, crown over implant, local anaesthesia and surgery fees. At Smile Signature dental clinics, dental implants are paid in 2 installments. During the first stage implant post surgery, the cost of the implant posts is requested. The implants with a healing cap is left to heal. And the second stage prosthese implant is charged when you continue to complete your implant treatment on building the crown, bridge, dentures or hybrid dentuers over implants. 
Find out more on our dental implant packages. Implant prices are based on number of implants inserted, the brand and range of your choosen implant system. there are 3 brands preferred by our implantologists – Straumann, PI branemark, SIC Invent. All of these implant brands are from Europe. Our dental implant clinics advocates the use of established and quality-based implants for increased safety, success and expected life-span of your implant treatments.
If requesting for other dental implant brands or continuing 2nd stage crown over other implants brands, our dental clinic will need to check the brand of implant is carried in Thailand and an appropriate prosthodontist that is trained with the required instruments to complete the implant prostheses stage. 

Dental Implant Dentists
Smile Signature dental clinics use a dental specialists system to ensure that surgical and complex dental treatment are always treated properly by qualified and experienced dentists to assure successful results.
As dental implant treatments are done in 2 stages. When you come in for dental implant treatment, you may receive consultation by a prosthodontist that walks through with you various options on missing gaps solutions. Should you decide to undertake dental implants, your prosthodontist may refer you to an implantologists or oral surgeon to perform the first stage implant post surgery. Thereafter when the implant posts is healed, your prosthodontist then continues work over the implants.
Implantologists are dental experts trained on surgical placement of implant posts. They check bone condition, soft tissue nerves to ensure implant posts are properly positioned and do not hit any nerves. Prosthodontists are specialists that construct crowns, bridge and dentures. Aside from doing prosthese over natural teeth, prosthdontists also specialized in building prosthetic restorations over implant posts. In Thailand, all general dentists are able to perform dental implant and prosthese treatment. However, in order to obtain successful and aesthetic based results, we would recommend you choose a qualified implantologist and prosthodontist for dental treatment to avoid complications.
Our team of dentists at Smile Signature dental implant clinic composes of highly qualified dental specialists in the field of implantology and prosthetics. Many having placed thousands of implants and prostheses for our patients who travel into Thailand for dental implant treatments.
Patient Reviews
View Smile Signature YouTube channel from our patients at Smile Signature dental implant clinic on having dental implants to replace missing teeth. 
top