Dental Implant

Promotion at Smile Signature Dental Clinic

---

Dental Implant Signature Packages
Simplicity. Reliability. Dental Implants Tooth Replacements.
Single Dental Implants Packages

Smile Signature dental clinics has skilled team of dental implant dentists in Thailand for missing gaps teeth replacements. Our thailand dental clinics are now having dental implant treatment fees paid in two separate installments
Single Conventional Dental Implant
 
P-I Brånemark

35,000 ( Promotion )

1,000

SIC Swiss

49,000 ( Promotion )

1,400

Straumann SLA

69,000 ( Promotion )

1,971
Multiple Dental Implants Packages


When there are several missing gaps together, dental implants are good tooth replacements solutions. Two or more dental implants may be implanted with a bridge fitted onto the implant posts in replacing the missing gaps.
2 Dental Implants with Bridge (3 Crowns)
 
SIC Swiss

128,000

3,657

Straumann SLA

166,000

4,743
Full Jaw Implants with Overdentures Packages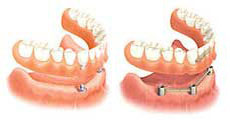 Dental implants with overdentures are tooth replacements solutions for full jaw missing gaps. Either two, four or more dental implant posts may be implanted with locator attachments or bars over the implant posts. A removable denture can be snapped onto the implant posts and its attachments as it holds the overdentures firmly in place without slipping or sliding.
2 Dental Implants with Bar/Locator and Overdentures
 
SIC Swiss

143,000

4,086

Straumann SLA

181,000

5,171
4 Dental Implants with Bar/Locator and Overdentures
 
SIC Swiss

253,000

7,229

Straumann SLA

329,000

9,400
Full Jaw Dental Implants with Fixed Bridge Packages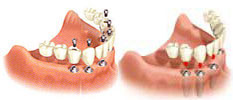 Dental implant with bridges on implants is similiar to having a new set of permanent teeth. The dental implant posts acts as new tooth roots replacements. Fixed bridges fitted above the dental implant posts. Because the implants posts are made of titanium, unlike natural teeth, dental implants does not decay.
4 Dental Implants with Bridge (10 Crowns)
 
SIC Swiss

328,000

9,371

Straumann SLA

404,000

11,543
6 Dental Implants with Bridge (12 Crowns)
 
SIC Swiss

438,000

12,514

Straumann SLA

552,000

15,771
Full Jaw Dental Implants with ProArch (All-on-4) Packages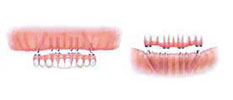 ProArch (All-on-4) methodology of implant treatment places 4 dental implants onto a full jaw. The implant posts are tilted to maximize implant grounding into the front jaw bone. Hybrid acrylic bridges are then fixed onto the implants in restoring function for a new set of teeth.
 
ProArch / All-on-4 + Hybrid All Acrylic Bridges

8,571 – 9,143

ProArch / All-on-5 + Hybrid All Acrylic Bridges

10,429 – 11,714

Change of Acrylic Bridges

–
Dental Implant Signature Packages Details
The above dental implant package prices uses standard crowns materials and abutments on implants. For all ceramic and higher material typed crowns and bridges on implants, higher specifications crowns and bridges may be opted with additional add-on fees to the packages. Bone grafing, bone materials, x-rays, medications, teeth extraction and temporary prosthetics is not included in the dental implant packages that is charged separately if required.
The above dental implants are for standard implant posts, standard abutment and standard crown. If higher specification of dental implant system such as bone level implants, immediate implant surface implant, gold abutments or higher crowns material is requested, additional costs on above package will apply that you are able to consult with you're dental specialists on.
For full jaw dental implant treatments, an advance deposit is normally requested prior to the start of 1st stage surgical implant posts treatment. Smile Signature offers several methods of payment for dental implant packages. Please write to contact@SmileSignature.com for more information.
The dental implant treatment prices are subject to changes without prior notice. American dental prices are simply estimates using exchange rate of USD1 = THB35.
Dental Implant pricings are applicable till 31st December 2023.
Payment Channels


Related Dental Implant Information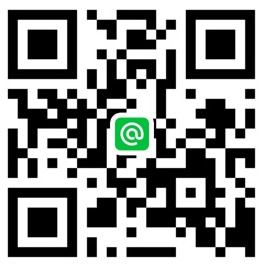 @smilesignature
DENTAL PROMOTIONS